Even if it's just one or two times a week, having your groceries or entire meals delivered to you could make life so much easier. Not to mention, healthier. Organic meal delivery services provide healthy options straight to your door allowing you to have all your fruits, vegetables, proteins and produce directly to you.
The majority of the meal delivery services on the market guarantee USDA-certified organic foods that will give you all the benefits and antioxidants. It is also a great way to taste test organic options before making the full commitment.
Organic meal delivery services are clean, nutrient-dense, and accessible. They offer a variety of foods, smoothies, meals, and snacks. Ahead, we share 3 of our favorite organic meal delivery services. We dare you to choose just one.
Green Chef
Partnering with local and national farmers for more sustainable ingredients, Green Chef is our organic meal delivery service of choice. The company promises 100% carbon and plastic offset in packaging, reduced food waste, USDA-certified organic meals, and proteins from animals raised in high standards.
To start: Choose a meal plan (keto, paleo, balanced living), and get pre-set custom meals. Green Chef gives you a rotating weekly menu with subscription-based meals that arrive weekly.
Green Chef is definitely for someone who likes to cook, or has the time to put the meals together, as the box will come with prepped ingredients and recipe cards with step-by-step cooking instructions. But don't worry, most dishes are ready in less than 30 minutes. Like most organic and non-organic delivery services, meals can be skipped or the service and be canceled anytime.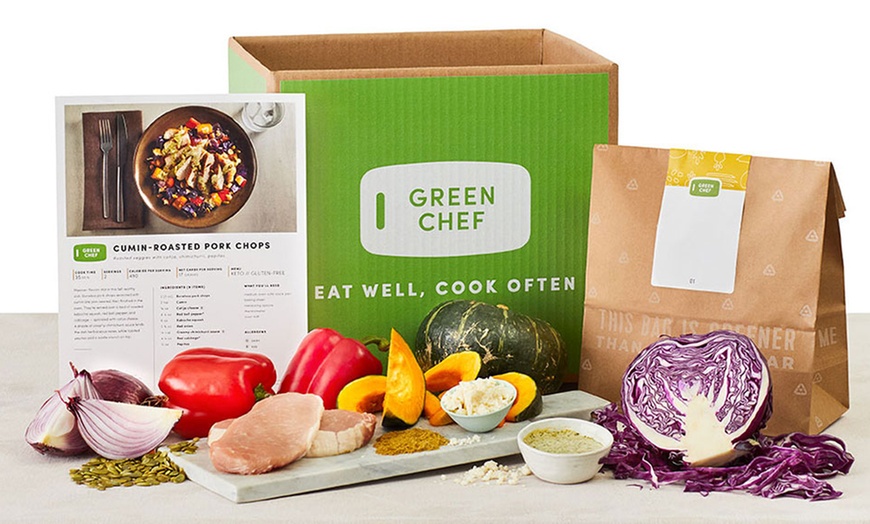 Daily Harvest
Daily Harvest is an organic meal delivery service with options of harvest bowls, smoothies, flatbreads, and even healthy desserts, like ice creams. When you go on Daily Harvest, you'll select a plan with 9, 12, or 24 items and choose how often you will have them delivered, weekly or monthly.
Opt to mix and match between more than 80 different kinds of soups, lattes, protein bites, and oat bowls. This organic meal delivery service is great for a person on-the-go, or someone who doesn't have too much time to cook, as all items are no bake and are ready in under 10 (sometimes 5) minutes.
For example, the smoothies come in pre-measured cups that only need milk or water before entering a blender. Items are individually priced, but never exceed more than $9 an item.
Veestro
Last but not least, Veestro. If you love to eat plant-based, or have thought about trying it for some time, Veestro is the perfect option for you. With an a la carte plan starting at $12 a meal for a 10-item (read: meals) box, or $10 a meal for a 30-item box, new and seasoned plant-based consumers love this organic meal delivery service.
The items you chose in the a la carte option are all up to you. In addition, they also have a weight loss plan that costs just under $200, and includes 5 or 7 days of set meals, and free shipping. There are breakfast options like scrambles, pies, and burritos, and more than 30 lunch and dinner entrees to choose from.
Like most organic meal delivery services, all foods can be catered to dietary preferences like soy-free, nut-free, low-calorie and other options. And the most important things, all offerings are 100% plant-based meals—free of meat, fish, dairy, chicken, eggs, and honey. It's great for vegetarians and vegans, as the company promises to include 96% organic ingredients. The plants are grown on organic farms that are certified non-GMO.
Are meal delivery kits up your alley? Which ones have you tried, and did they make eating healthier any easier? We hope these options are a great jumping off point for you—let us know!
Photos via Groupon, Daily Harvest, Vegconomist