A laptop bag is your constant buddy. There are so many options of laptop backpacks ranging in price, from under $50 to several hundred dollars, but choosing the best one isn't easy. A smart backpack will carry and organize your belongings—whether you're returning to a commute, working from coffee shops, or traveling on a weekend excursion. It's also more comfortable on the neck and shoulders than a stuffed tote, bag, or briefcase.
Below, a selection of the best laptop backpacks to buy right now.
Tom Bihn Synik 22
This is definitely the best one, but it's expensive. It contains a lot of pockets, all of which are well-designed. The zipped water bottle compartment, for example, is in the center of the backpack rather than on the side, so it won't throw you off balance.
For easy access, the pen pockets are situated inside the flaps rather than in the middle of the top. Bluesign-certified 400-denier ballistic nylon is used on the exterior, with YKK water-repellent zippers.
Each bag comes with a lifetime warranty. Because the bag is so small, the back pass-through is only 7 inches wide—too thin to go over a carry handle. It's the ideal, well-organized backpack.
Buy the Synik 22 from tombihn.com for $310 in over 20 colors.
Rains Backpack Mini
The Rains Backpack Mini, with its 8.5-liter capacity, allows you to preserve your sense of style without sacrificing functionality. It can house a 13-inch MacBook Pro, as well as the work-related items you require. In addition to a laptop, you can pack this mini suitcase with extra clothing and toiletries for a night away. Plus, did we already say it's very attractive?
You can upgrade to the 13-liter model ($110), but the laptop sleeve is the same size in both sizes. They're waterproof and come in a variety of fun colors. On the back panel, there's a small phone zip pocket, where you can keep your wallet.
Buy the Backpack Mini from rains.com for $95 in 10 colors.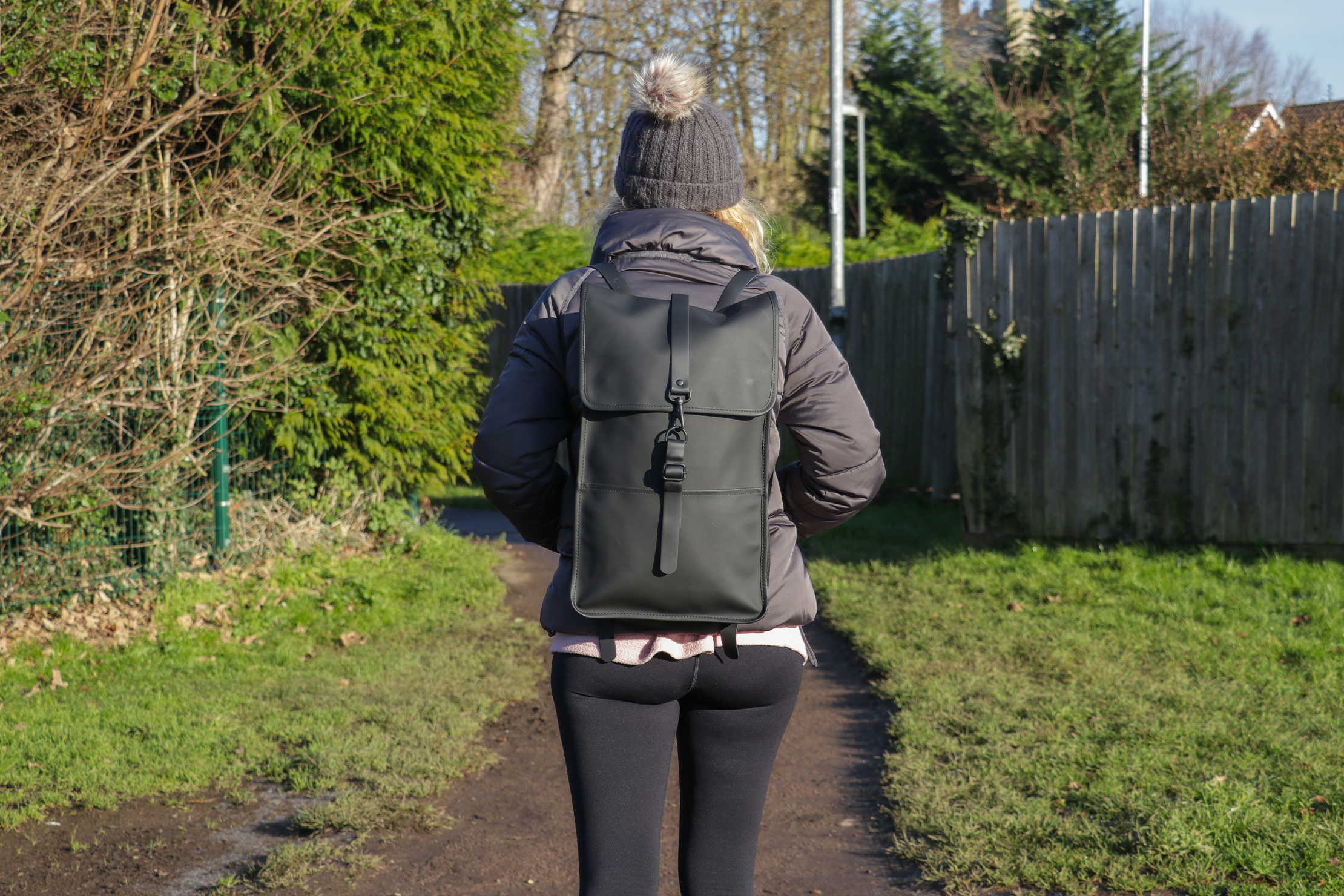 Herschel Heritage Backpack
The Tom Bihn is out of reach for some people's budgets, but you don't have to settle for a cheap bag to save money. Despite being less expensive than most of the other bags, this Herschel looks and performs just as well — you've most likely seen it on the streets of NYC before.
The Heritage can hold a day's worth of textbooks and a laptop in its designated 15-inch pocket. It can also serve as an overnight bag holding clothes, shoes, and as a carry-on with basics. The faux leather bottom and handle and is composed of 600-denier polyester, making it long-lasting. The only drawback is that there is no pocket for a water bottle, but that's pretty good for a backpack.
Buy the Heritage Backpack from herschel.com for $65 in over 30 color options.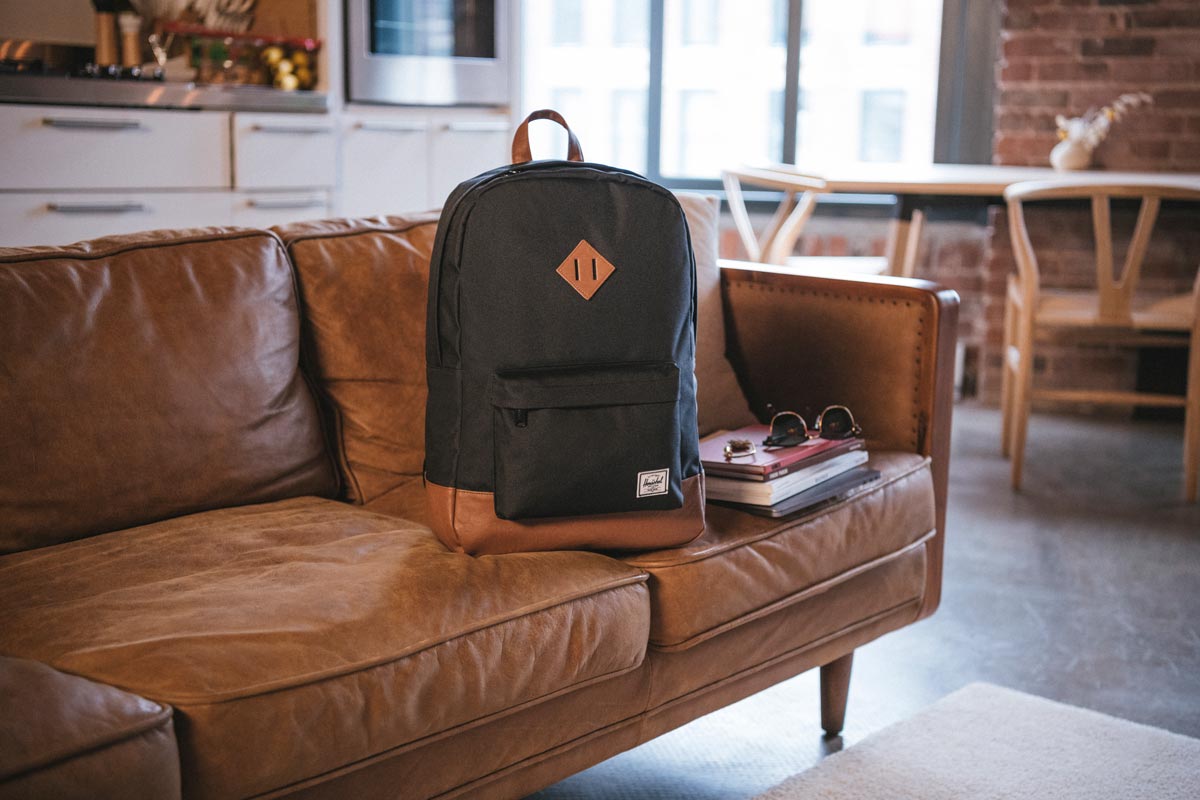 JanSport Right Pack Premium
JanSport is well-known. Almost every kid in school had the super-cheap Superbreak ($35), which has a laptop case, but isn't built to keep it safe. That's why JanSport's Right Pack Premium appeals to us. It has a dedicated, padded rear pocket that fits a 15-inch laptop, and it comes in a variety of gorgeous colors with a suede bottom.
One front pocket for pencils or other small items is common in basic backpacks. This one has an extra front pocket big enough to hold an iPad (approximately 9.5 inches tall), and three organizational pockets big enough to hold other necessary gadgets.
The main pocket can hold all of your work or school essentials, including notebooks, binders, calendars, and a small lunch bag, and it also has a side water bottle pocket. The padded straps, on the other hand, will require some break-in time.
Buy the Right Pack Premium from jansport.com for $80 in 5 color options.
Going on a business trip or weekender soon? Want a travel-specific backpack? This is the best.
Photos via Brands