The 4th of July barbecue, while a tradition, is tired at this point. And this year, there's probably not many of us that are super excited to don the red, white, and blue and load up on cheeseburgers—but still want to gather with loved ones and have a good time. For those of us in that camp, you're obviously not alone. Here's some things you can do on the 4th that have nothing to do with a barbecue…but maybe a little to do with fireworks.
1. Go to a lake or beach
There's nothing like hitting up a beach on a summer day. Even better if you get to enjoy it with your friends. If you're a boardwalk person, there's nothing like Manhattan's or Coney Island's. (Plus, Coney Island will have fireworks on the boardwalk starting at 9:30PM). Or head to Queens for the Jacob Riis Park.
2. Go to a music festival
If you're in Brooklyn, check it: ManiFest is a July 4th music festival happening on Sunday at 8PM. Radiate and Synchro are teaming up to host an experience with the best vibes on Meadow Ave. with meditation, food, and live music. Centered around community, this celebration will culminate in a fireworks show on the outdoor stage.
Click here to get tickets for $20
3. Catch a rooftop concert
Brooklyn is where you want to be if you want to catch a rooftop concert. Catch the 4th of July at Elsewhere, a rooftop concert with a 3-act lineup. Tickets are $35 and the event itself is from 3-10PM. If you like a later party, head to Polygon. You can either spend the night dancing starting that Sunday, or be there for the rooftop shutdown the next day.
Click here to get tickets to the party for $20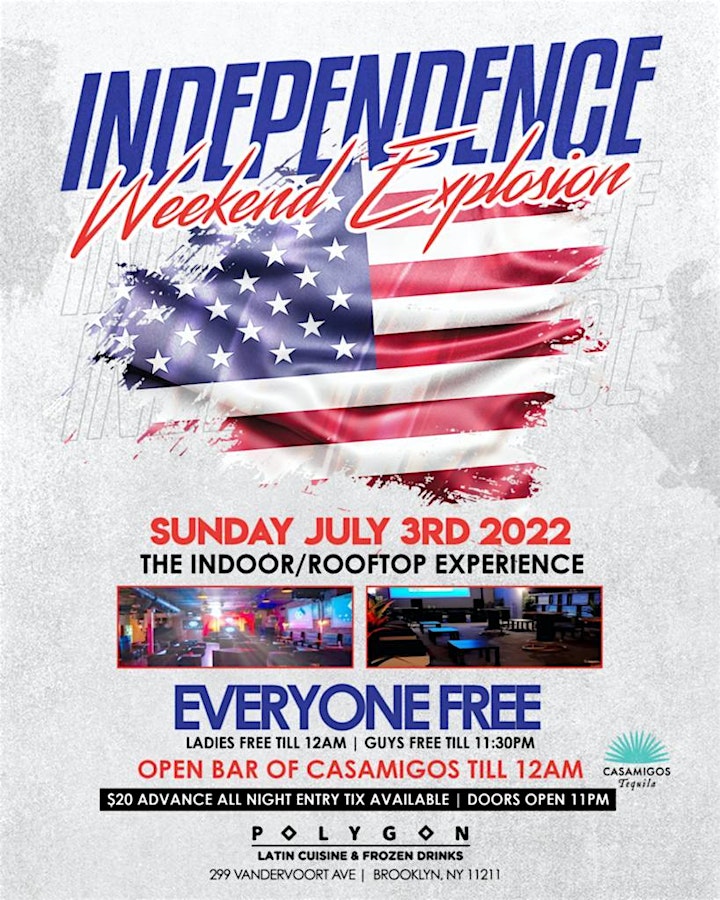 4. Head to The Day Party
Yes, this is different than just hitting the beach. The Day Party at Coney Island, as you probably know, is exactly what it sounds like. Meek Mill is headlining, and DJs Spade, First Choice, Rod, and Chase B will keep things going till then. Other artists heading the stage include Journey Montana, Miles Hardamon, Armani White, and Kida The Great. Plus, the show will end with the Coney Island fireworks.
Click here to get tickets for $59
5. Celebrate at a culture festival
If you're in Brooklyn and you want to fill your weekend, you need to check out this one. The International African Arts Festival runs from today, Friday, July 1st to the 4th at Commodore Barry Park. It's NYC's longest-running celebration of African culture, and it happens rain or shine. Of course, the fest will be packed with music, from Thandiswa to Olatunji, The Jazz of A Tribe Called Quest, and Lyfe Jennings.
Click here to get tickets for $15
For more things to do around the city, check out a farmers' market or this Basquiat art exhibit.
Want to escape the city altogether? Take a weekend drive.
Photos via Events, NYCgo, Chicago Tribune