If this pandemic has taught us anything, it's that all of us were burnt out from work for a long time and never admitted it. To follow up, we've started to understand how important rest is for our mental and physical health. We are refusing to go back into offices, where that line could so easily be blurred again.
The fact of the matter is, life can get so busy, and sometimes feel as if we have no control of our own agendas. Of course, you can engross yourself in a fitness regimen, but we would like you to consider another option: a wellness retreat. It's a fantastic way to break routines and to learn habits that help with nutrition, fitness, and mindfulness. Below, we spotlight 6 fantastic wellness retreats all over the world, for all budgets. Allow the below experiences to relax, recharge, and realign your life.
The Lodge at Woodloch, Pennsylvania
Nestled around 500 wooden acres in the Poconos, The Lodge at Woodloch is a destination spa resort known for it's fitness and wellness classes, outdoor excursions, 40,000-square-foot spa, and gourmet dining. During the week, you can find a room for around $300, but during the peak weekends, you will see that number nearly double per night. However, in that rate, you receive accommodations, three gourmet meals, group excursions, and health and fitness amenities. Of course, spa treatments will need to be purchased in addition to the nightly room rate.
Pura Vida Adventures, Costa Rica
At a steep price of $3,195, Pura Vida Adventures hosts week-long surf camps and yoga retreats in Costa Rica. Here, you will be able to stay for 7 days and 6 nights, receive surfing and yoga lessons, eat three meals a day, and enjoy a one-hour massage. It has co-ed and women-only options. Offering retreats 1-3 times a month, for a week, you can learn how to surf, practice yoga on the beach, stay beachside, or explore Costa Rica with the daily group excursions.
Sivananda Ashram Yoga Retreat, Bahamas
Your yoga experience will include yoga classes, deep meditations, workshops, and guest lectures, all at a waterfront location in the Bahamas, at Sivananda Ashram Yoga Retreat. The retreat requires a two-night minimum stay, and can be as cheap as $65 a night if you bring your own tent. However, if you'd like housing with an air conditioning system, you will see pricing at $120 and above. With the rate, you'll get two vegetarian meals a day, yoga and mediation classes, satsangs, and beach access.
Ojo Caliente Mineral Springs, New Mexico
If ancient mineral hot springs are your thing, you won't want to miss Ojo Caliente Mineral Springs, home to New Mexico since 1868. During your stay, you will enjoy days hiking, biking the 1,1000-acre property, yoga classes, bird watching, and restorative soaks in the healing waters of the mineral hot springs. Rates start at $169 a night and include a private room with a historic atmosphere.
The Peaks Resort and Spa, Colorado
The Peaks Resort and Spa in Colorado has a lush 42,000-square-foot-spa, filled with an indoor-outdoor pool, saunas, steam rooms, oxygen inhalation rooms, and every treatment you can imagine. If you stay in the winter, you can enjoy the resorts partnership with the Telluride Ski Resort. Prices are quite high for their three-night minimum stay, but can also include a lot of perks, like spa credits and freebies at the Ski Resort, as well.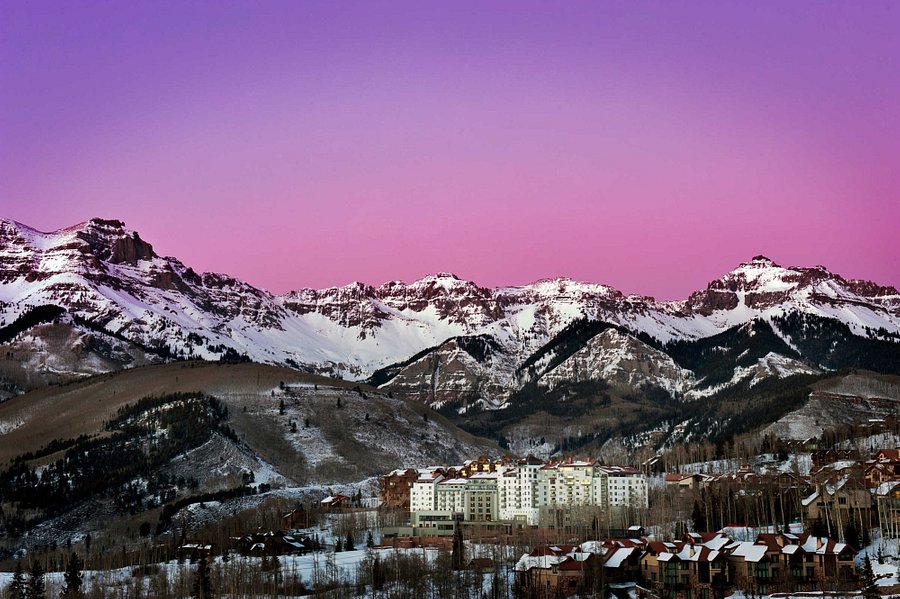 Bio-Hotel Stanglwirt, Austria
Located in the Northern Limestone Alps of Austria, Bio-Hotel Stanglwirt features a breakfast that is farm-to-table and the largest saltwater pool in all of Europe. The hotel also boosts an extensive spa menu, yoga, guided hikes, and cross-country skiing. A three-night stay will cost you nearly $800 but it will be worth it.
If you can't commit more than a day, don't worry. There local NYC Korean spas will have you feeling relaxed after just a few hours of treatment and downtime.
Photos via The Lodge at Woodloch, Surfcamp Online,Sivananda Ashram Yoga Retreat Bahamas, TripAdvisor