If you've opened up the red and white streaming service lately, there's no doubt you're asking yourself, "What happened?" The content isn't great, the price is skyrocketing, seemingly "random" shows get canceled after one season, and quality across the board is struggling. How did we get here? Why is Netflix trash all of a sudden?
1. Nostalgia comes at the expense of competition
We knew early on that Netflix's reign as the #1 streaming service wasn't going to be unchallenged. Hulu exists, and it was only a matter of time before networks figured out an easy-to-copy streaming service formula. So long, Friends and The Office. (And all the money it took to keep them on the roster).
2. Series longevity isn't promised
Netflix still has some of the best original dramas in the game. House of Cards and Orange is the New Black's popularity goes without saying. But all good things must come to an end. And follow-up smash-hits, like The OA, sense8, and The Get Down lasted two seasons, max. What's the point of watching a new series if it was just going to get canceled?
3. "Password crackdown"
And of course, there's the password sharing thing.
4. Prices inflating for deflating quality
Well, those are bummers, but at least Netflix is still only $10 a month in HD…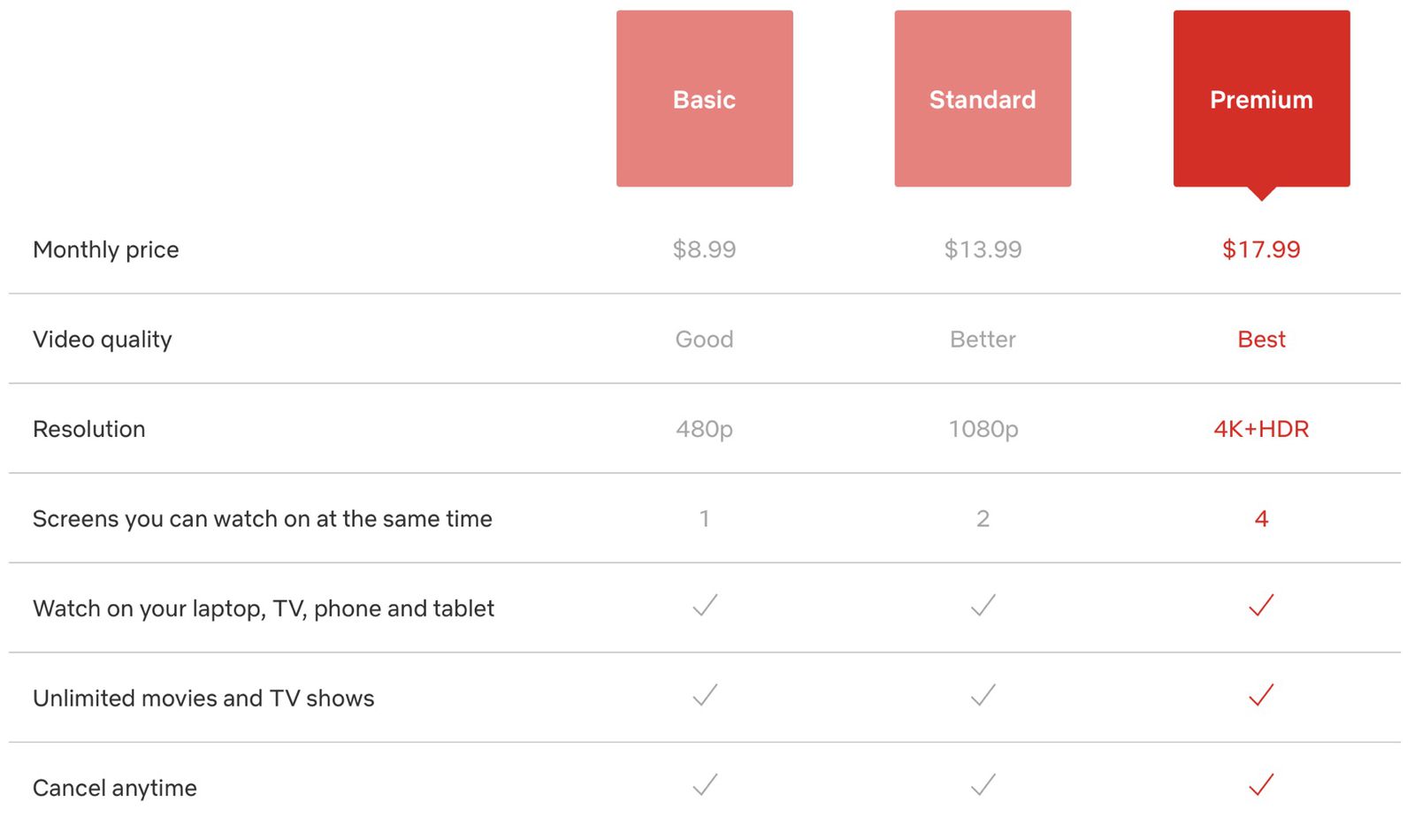 Yikes.
5. Questionable budgeting
Animation projects have been slashed due to budget constraints. Yet the last season of Stranger Things cost $50 million USD per episode to make. Why spend so much if the service can't afford it? Why ink a $20-60 million deal with Dave Chapelle, who's become one of the most out of touch and unfunny comedians?
6. Not caring for its employees
Not to mention the entire department Netflix just fired that was mostly made up of women of color, hired less than a year ago. Yet they were unceremoniously let go after the company's stock plummeted. And Netflix says "woke" employees can quit if they're offended by content created by Netflix.
So where do we go from here?
Netflix's strategy is seemingly to produce whatever, as long as it can go viral. But hasn't that always been the strategy?
Think back to the days of Orange and Cards. I think the main difference here, however, is that the shows had arguably better production and writing… and marketing. When's the last time you heard about a Netflix Original that wasn't memed? Why is Netflix pushing season 7 of Big Mouth and not…anything else? Before Heartstopper, I think 2020's The Queen's Gambit was the last Netflix Original I truly enjoyed. No season 2 in sight…
Plus, weekly releases of series have proven to still be a great idea. The "binge" draw of Netflix is growing moot. On HBO Max, Euphoria's latest season averaged 16.3 million views per (confusing) episode. Succession, 7 million. Showing that viewers will wait for what they want to, dissect every minute, and build hype until the next one. It's fun to look forward to a show's next episode just to live-tweet it. Or, in Euphoria's case, hope your questions get answered.
Also, Netflix is getting sued
By shareholders, nonetheless. Variety reports that the lawsuit "alleges Netflix violated U.S. securities laws by making 'materially false and/or misleading statements'" and also because it "failed to disclose material adverse facts about the company's business, operations and prospects."
So they didn't even tell anybody they were reaching the hole! What do you think about Netflix recently? Do you think it's going to survive its current downturn?
Anyway, here's how to get a variety of streaming services on a budget.
Photos via Netflix