I've recently have a lot of visitors and although I love hosting in my home, I understand my guests wanting a proper holiday packed with a hotel. So I've been doing a bit of digging—figuring out the best places based on availably, location, space, amenities, and proximity to my home. I've discovered so many new hotels in my neighborhood and surrounding areas, that I've vowed to do a one-to-two-night staycation every other month to enjoy what these facilities have to offer.
The process wasn't easy. After all, this is New York City. There are always new hotels popping up that you might have overlooked. There are hotels focused on design, character, food, or quirky vibes.
Factors to consider
My advice? Decide on what borough you would like to be in. Hint: It might be fun checking out a neighborhood you've never been to.
Next, decide how much you are willing to spend. You will be surprised how many hotels right now are giving deals to local New Yorkers, take advantage of this.
And lastly, decide what vibe you want. If you are doing a true staycation, will you spend all your time at the hotel? Or would you want to venture around and see what the area has to offer?
Of course, all these decisions are yours, but it will be paramount to narrowing things down in a city built for tourists. Suffice to say, the below is only a shortlist of where to stay in the Big Apple.
Soho Grand
All you need to know about the Soho Grand is that virtually every celebrity has stayed here, especially during Fashion Week. Home to some of the swankiest rooms in NYC, Soho Grand boosts 17 individually created floors, a hotel bar, American diner, and tropical outdoor restaurant.
Wythe Hotel
Known for their exposed bricks, factory walls, and reclaimed wood, the Wythe Hotel takes its roots from the barrel and rope factory it once was in 1901. Since then, the industrial-chic hotel, located on the Brooklyn waterfront, has become loved by artists, as they commission local artwork from artists in the community. They've got a French restaurant and views of Manhattan that are unheard of.
1 Hotels Brooklyn Bridge
The coolest part about all 1 Hotels, especially the Brooklyn Bridge version, is the entire hotel is sustainable and eco-friendly, with recycled materials for the furniture, LED lighting, and gray water irrigation systems. Bonus: The rooftop pool has amazing views of Manhattan.
Hotel Indigo
Between the rooftop bar, rooftop pool, culinary offers, abundant cocktails, and fitness center, Hotel Indigo is loaded with amenities.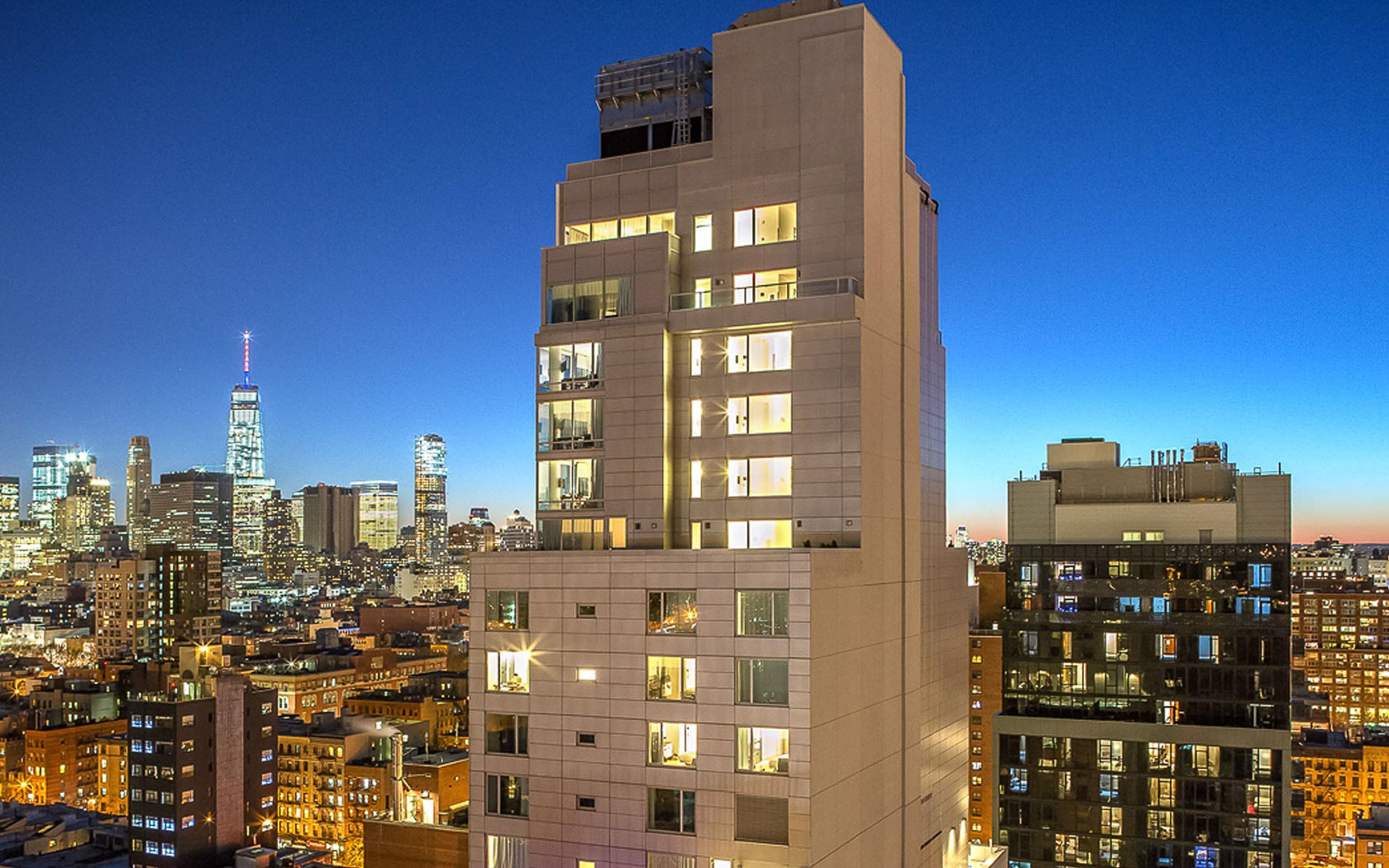 Greenwich Hotel
If you're looking for a place where silence is the utmost priority, look no further than the Greenwich Hotel. The hotel is filled with abstract paintings from Robert De Niro's father, and bedrooms are filled with books and private gardens. There are only 88 rooms in this hotel, and it's filled with antique silk rugs, gorgeous vintage tables, and marble bathtubs. The thing that brings guests back for more is the Shibui Spa, where a lantern-lit pool is housed in the 250-year-old Japanese farmhouse.
The Peninsula
Where it prides itself on formal vibes, it makes up for with massive, luxurious guest rooms and a top-notch spa. The Peninsula is an OG.
The Standard East Village
Incredibly different from The Standard in Chelsea, The Standard East Village captures the quirky and artsy-ness of the area. You'll find Instagram-inspired lip-shaped pillows, floor-to-ceiling windows, and a restaurant with spunky wine. It is 21 stories high, and has high-tech speakers, and TVs in every room.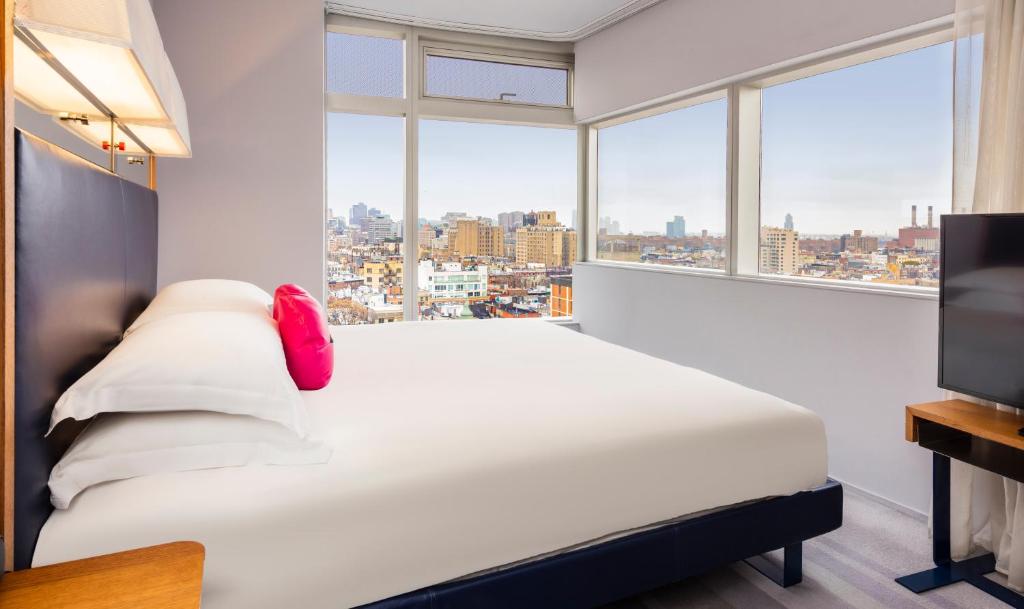 The William Vale
In Williamsburg lies The William Vale, home to 183 guest rooms with balconies and epic views overlooking the East River and Manhattan skyline. The incredible hardwood floors, glass-enclosed showers, succulents throughout the hotel, rooftop pool, and chef Andrew Carmellini's restaurant makes this hotel a must-see.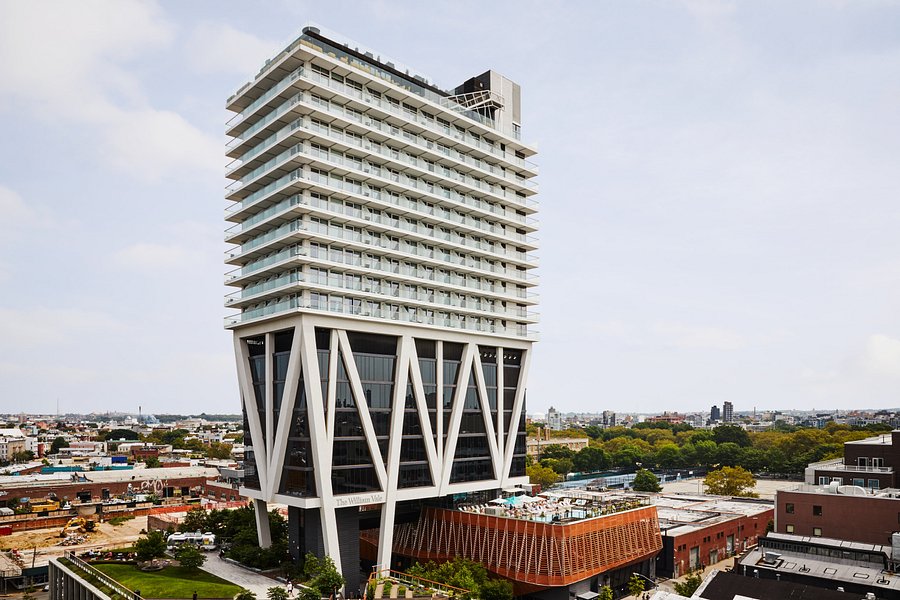 Are you ready for a staycation in one of the best cities in the world? Don't forget to hit these 6 bars in NYC while you're at it.
Photos via Wikipedia, TripAdvisor, Dwell, Hotel Indigo, Greenwich Hotel, The Peninsula, Booking