New York is famous for a lot of things, but something that doesn't a lot of attention from visitors (that us locals absolutely love), are the farmers' markets. And, yes, Manhattan has amazing farmers' markets, but Brooklyn has the space to have more markets and vendors, which is why we are spotlighting Brooklyn.
With overflowing seasonal fruits, colorful root vegetables, irresistible treats, and artisanal breads, Brooklyn is home to some of the best markets. Most of the below markets are open on Saturday or Sunday, with some open year-round and weekday options. Be sure to check the schedule before you go.
Fort Greene Park Greenmarket
Nestled in Fort Greene Park, near all the beautiful brownstones, you'll find Fort Green Park Greenmarket. Walking around, you'll find meat, fresh seafood, bread, baked goods, and produce from all local vendors.
There are variety of cheeses and breads for sale, and a beautiful small-town feeling where you will listen to local musicians and enjoy cool cuisine. They are open every Saturday from 8AM to 3PM year-round, and make sure you grab a slice of cake or doughnuts with hot apple cider during the winter.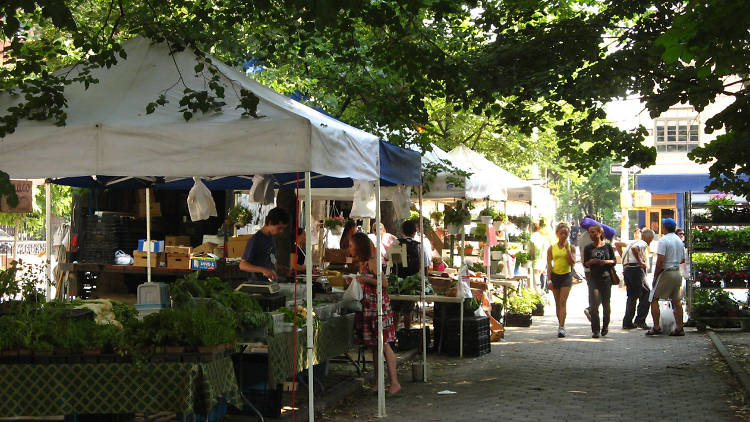 Down to Earth McGolrick Park Farmers Market
Former farmland to a Polish immigrant community, Greenpoint is home to some of the freshest fish in all five boroughs. You can grab organic fall vegetables, colorful peppers, kimchi, pears, peaches, and so much more. They also have a great selection of organic beers and an entire section on pickled items.
Grand Army Plaza Green Market
If you're into baked goods, Grand Army Plaza Green Market is the only place you should be going. Shop a huge array of fresh, epic-smelling breads, pies, churros, and cakes.
The open air collection of vendors is also known for their dried fruit and dairy products from the tri-state area. In fact, the Grand Army is the second largest greenmarket in New York City, after Union Square. We encourage you to first do a walk-through of all the stands and vendors before committing–there really is a lot to see.
Bartel-Pritchard Square Greenmarket
Inside the verdant southwest corner of Prospect Park lies the Bartel-Pritchard Square Greenmarket. Treat yourself to all the seafood you can imagine year round on Wednesdays and Sundays.
Brooklyn Borough Hall Greenmarket
Close to the Brooklyn Bridge and a couple blocks from Cobble Hill, the farmers market has tons of jams, cider, vegetables, organic foods and a long selection of meats and cheeses. During the summer, you can also find fresh-cut flowers, baked goods, and hand-rolled hard pretzels. You can go there on Tuesdays and Saturdays from 8 AM to 3PM year-round.
Carroll Garden Greenmarket
A true organic farmers market in Carroll Park, you will find regionally grown produce, award-winning cheese, wild-caught fish from 8 AM to 2 PM.
Of course, Brooklyn isn't the sole place for fresh produce, as stated above. But with options like these, it's easy to see why we chose it as the place for the best farmers' markets. Where's your favorite located?
Photos via Time Out, Local Harvest, Culture Collide, Stony Mountain Ranch