Between weekend trains never really arriving, tourists who walk way too slowly, and a work-from-home job that never allows you to turn off, New York City can be a stressful place.
In the "City That Never Sleeps," it is important that you observe self-care. With a plethora of Korean day spas throughout the city, relaxing has never been easier.
The traditional spas here are gender-separate, have TVs and napping areas, pools, fitness centers, multiple saunas, massages, yoga, and even water parks. Not to mention, the day passes ranges vary, but can cover pretty much everything in one—AKA, you don't even have to get a massage, facial, or body scrub (although recommended).
So on your off days, why not skip your typical bar hopping bender and caffeine fix, and treat yourself to a relaxing all-day treatment instead?
But, be warned: You might become hooked, and opt for a membership. Regardless, if you're in need of some major de-stressing (*raises hand*), check out this list of the top Korean spas in New York City.
Trust us, you won't regret it.
Spa Castle
Open from 8 AM to midnight, most guests spend a full day at Queens-based Spa Castle. And with a fitness center, 7 themed saunas, water park and everything in between, it's hard to blame them.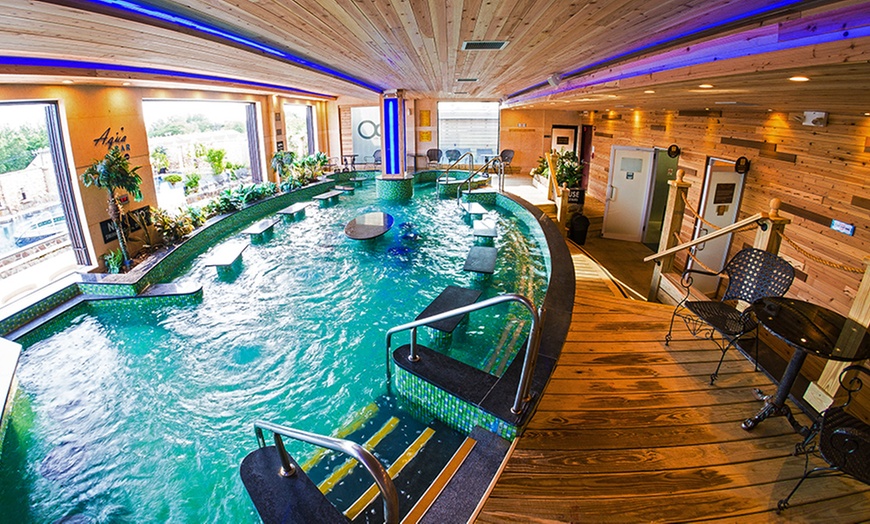 Aura Wellness Spa
Built in 2007, Aura Wellness Spa occupies 3 beautiful floors, hosting 4 igloo-like saunas (the Hwangto Dry Grotto, Crystal & Jade Dry Grotto, Crystal & Jade Steam Grotto and Stone Ice Grotto), that have mineral salts for better skin. They've got microdermabrasion facials, saunas, Asian body scrubs, and massages—open 7 days a week from 10 AM to 2 AM.
Spa 32
Deemed as New York City's most affordable quality massage, recipients love Spa 32. And to honor the city that never sleeps, Spa 32 has a 24-hour policy and tons of hot stone massage options to chose from.
We could all use a little self-care these days. Maybe a trip to the day spa is exactly what you need by way of rejuvenation.
Photos via Groupon, Aura Wellness Spa, Spa32