Listen, Invincible is incredible adult animation entertainment. And it's getting paid dust. Read this recap and tell me I'm lying.
— SPOILER WARNING —
Here's what you missed on Invincible
The show opens and Omni-Man (think Superman) murders his super team. It's brutal. But the murders go unsolved, and Omni-Man continues to live a happy, normal life.
When his son, Mark, has his powers come in, he has to juggle them with high school, a secret identity, a girlfriend, and living under his dad's shadow and expectations. Spoiler alert: He's not great at it. But with Omni-Man's team gone, a new one has to take over. Mark's squad is first up…and, well, they eventually get better.
Mark is struggling when it's revealed that Omni-Man is from a planet of super murder-y aliens dispatched to destroy planets. But Omni-Man screwed up when he was assigned Earth, because he fell for Mark's mom. Covers get blown, jigs are up, and Mark has to fight his evil dad. But Omni-Man wins by a long shot…and it's live-streamed. So their family and friends see this boy get cooked by his own father. It's horrific. (I sobbed).
With this main storyline, side-plots with fleshed out characters dealing with their own issues, amazing acting and direction, and even shifting title cards, Invincible is a triumph. It's like a live-action drama, just animated. And its reception speaks for itself.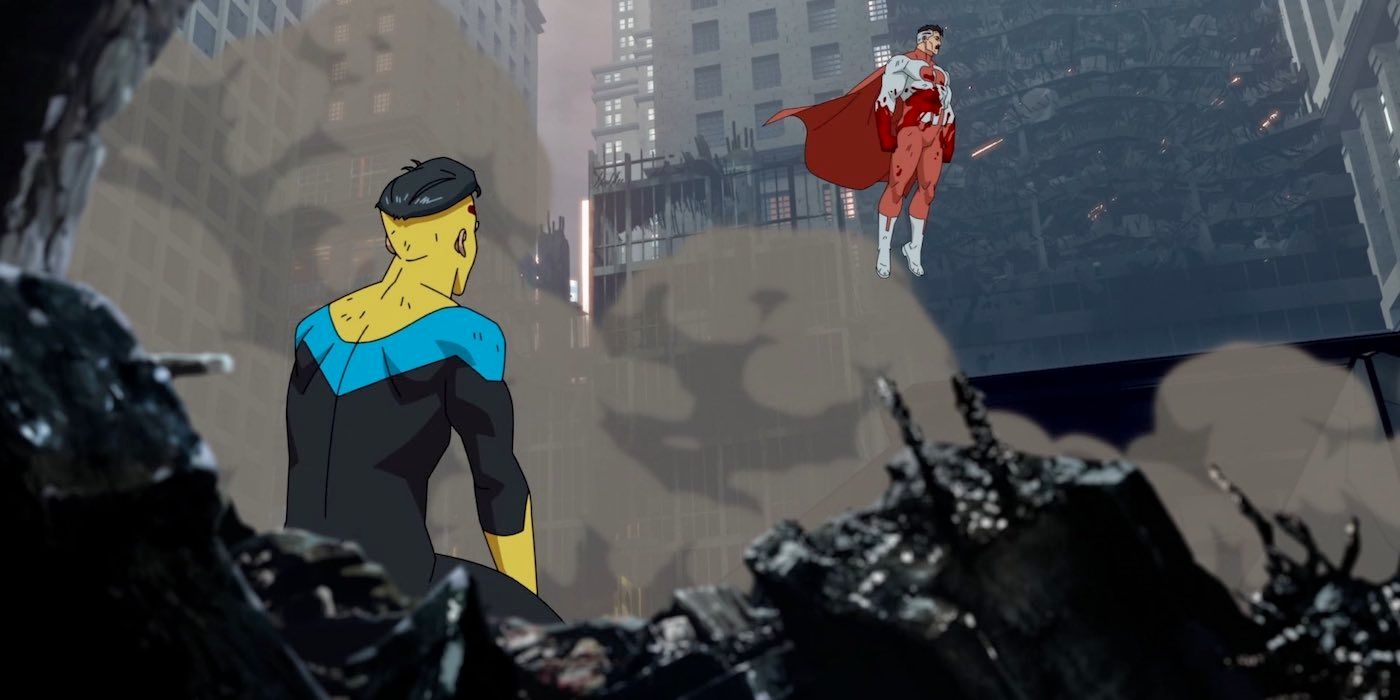 Invincible's reception
It was the most popular show on our favorite rotten fruit site for a while, boasting a 98% fresh rating. The show still trends on Twitter. It has a star-studded cast, and the writing, direction, and animation brings something new to Western animation. So, naturally, now that awards season has rolled around and noms are out, many fans are wondering: Well, where is it?
CBR reports, "​​Invincible is a show that feels like a genuine breakthrough in the mainstreaming of serious animated drama series, so it's a disappointment that it got ignored by the Emmys entirely." Why, instead, did shows like Big Mouth, South Park, and The Simpsons (c'mon, we know it's peaked) get picked over an encapsulating drama, loved by fans and critics alike?
When it comes to the Critics Choice Awards, "Marvel's What…If? took home the prize, beating out shows like Bluey and Big Mouth for the victory. This lineup had folks wondering, 'What about Invincible?'" Twitter erupted into flames over this, and I have to agree. When we put What If…? and Invincible side-by-side on the rotten fruit site, it's not number 2.
The same shows and sagas are nominated for awards in animation year after year, regardless of how objectively good they are. It makes you think about how nominations are done. And if the people who nominate really care about the winners.
Out of 12 current nominations, Invincible has 3 awards: INOCA, Golden Derby, and Golden Tomato. For a comic book-turned-series with this much internet buzz and this many high ratings. It makes you think that if shows that have half the effort are the ones that get noms, where will animation go in the future? Invincible goes leaps and bounds above most of the animated recycled material we get today, and it deserves to be recognized. What do you think?
And do you think Spider-Man: No Way Home got snubbed, like 'Clerks' director, Kevin Smith?
Photos via Amazon Prime