Last month, Instagram, which is now owned by Facebook, rolled out a feature meant to flag fake photos. Facebook, Inc. is taking active measures in its effort to battle misinformation and the propagation of fake news, starting with this feature that hides photoshopped images.
While the intentions behind this misinformation cleanse might be noble, Instagram's track record in censoring content doesn't back up its supposed "good intentions."
Instagram shared that the algorithm uses a "combination of feedback from our community and technology" to single out which photos need to be sent to third-party independent fact-checkers. If the fact-checkers determine that the photo is fake, it will be hidden behind a warning message before it can be viewed. 
The latest feature overlays a black "False Information" warning on images deemed fake or altered. Users will still have the option to view the actual image, and additionally read up on why the photo was decided to be fake in the first place.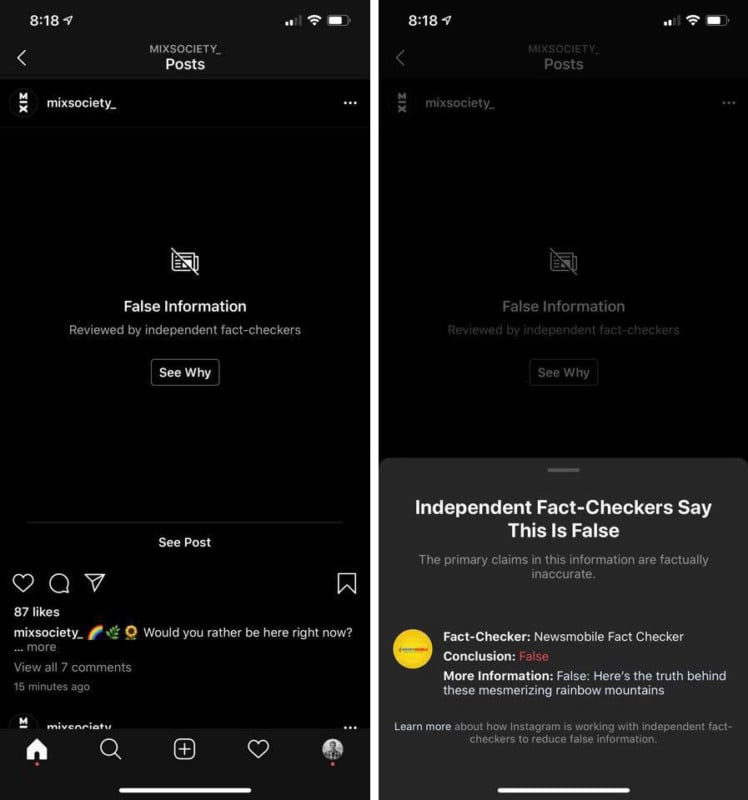 "Fake" photos are not only hidden behind a warning, they are also removed from the Explore and Hashtag pages and are automatically flagged in future posts.
The main goal is to eliminate fake news and misinformation, but we can't help but feel that this may have already gone too far. Instagram is actually hiding all photoshopped photos, including digital art, flagging them as "false information."
This will definitely have implications for everyone who uses Instagram to showcase or promote their digital artworks and image composites. It will also make it even harder to view certain types of photography.
Gif by Augusto Zambonato.